Compliance driven organizations who have to align their security standards against a global security framework face a traditionally expensive process that involves hiring a big-name consulting firm. The consultants perform a security maturity assessment and share the results using a roadmap that gives a maturity score and what is required to improve.
On average enterprise level companies pay between $250,000 to $300,000 per year and small- to medium-sized companies pay in the $50,000 to $150,000 range.
However, by the time this process is done, the data is already months or even years old. Meanwhile, the industry has moved forward, technology has changed, and the organization has fallen even further behind.
Compliance vs. Security
Although the size of the fine is daunting, it's also avoidable by ensuring your company is making the right technology decisions.
Additionally, being compliant alone does not mean you're secure. However, compliance will often drive security management; will help get budgets, give board visibility, and help build the priorities that you want to deploy your security program on.
Compliance

Security

· Standards

· Risks

· Regulatory Framework

· Policies

· Documentation

· Authentication Mechanisms

· Secure IT Environment

· Physical Controls

· Network Access

· Business Processes
Until now, companies essentially had to choose between 2 bad options managing compliance. Either spend on consultants, springing into action once a year or on the schedule determined by your compliance or discipline your team to run it off a shared Excel spreadsheet; neither are ideal solutions.
The Better Approach
CrucialLogics eliminates the need for consulting with the big four firms by offering a one-time assessment and evidence gathering exercise that establishes a baseline using Minerva™. This innovative new tool maps compliance alignment to frameworks to ensure business environments are secure. It completely eliminates the need for consultants and spreadsheets.
Here are six additional benefits to Minerva.
Dashboards Create an Integrated Framework
Instead of traditional manual detection that uses technicians and runs the risk of human error, Minerva™ gives a holistic view of the organization by using personalized, real-time dashboards for exceptional visibility into compliance and security.
Once the baseline is established in Minerva™, our HyperCare consultant works with your CISO or IT department to manage in real time the progress being made for the projects being executed and it updates the security maturity assessment on a real-time basis so that you can visually see exactly where you stand with respect to your security maturity on any given moment in time. This way, the information you're taking to your CEO to drive strategic decision making is perpetually current —never outdated.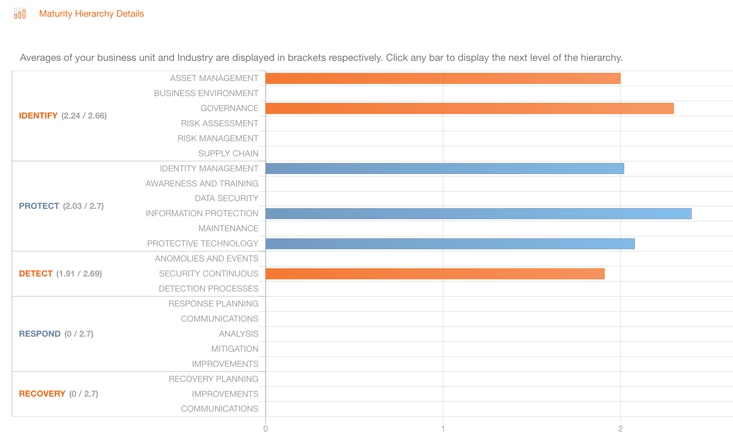 Saves Time
If something happens that decreases the maturity, HyperCare consultants do it instantaneously, right on the fly. It's a lot less time consuming do your whole compliance check because you can open your dashboards in one snapshot. It could take just a half hour a month for them to go into the compliance tool, which means a lot less time is required to complete the audit.
Saves Money
Minerva™ not only reduces operational costs by reducing the need for hiring more staff, you don't have to hire an expensive third party and mobilize the entire team, with all the work and effort of scrambling to figure out what's going on. You simply allow our consultant to guide you as you continuously monitor the personalized dashboard. It's best practice and you're looking at a fraction of the cost.
Simplifies Collaboration
When everything is in one place, users can share documents, exchange ideas, and make updates within the system. This eliminates duplication or alternative versions of the same information, cutting down on time and stress.
Simplifies Regulatory Changes
When standards and regulations are constantly evolving, it's much easier to stay on top of changes because the system automates compliance monitoring and identifies potential risks so you're aware before you're in danger of being non-compliant.
Easy to Maintain
Doing a one-time audit and scan of your environment means there's just a little bit of effort to maintain it and then you have instant visibility on your security program through your compliance platform; a huge benefit for leaders of a security practice.
If you're looking for a new approach to your managed compliance, reach out to our team today and learn more about how we can help your organization.