Significant potential savings are caught up in invisible IT waste that costs businesses money
It's too common for companies to get stuck in an ineffective relationship with their own IT departments
Aligning IT with business promises cost savings — but only if done right
An IT Department with the Wrong Focus Wastes Money
Nobody would discount the value of having an IT department in their business. The problem is that too many businesses aren't able to understand where the spending's going awry. Business demands something, the IT Department provides it — but the ask wasn't actually useful in the first place. Or, the IT Department takes initiative on something they think will be good, but it doesn't actually end up providing value.
There are hundreds of examples of how poor communication or mismatched or misaligned expectations can result in waste.
In an effort to get unit costs down, the business may end up buying significantly more devices than it actually needs
Mergers could land the IT Department with unexpected systems it can't efficiently support
A business demand may be to purchase infrastructure to account for peak usage, when the IT Department otherwise may prefer to consider an Azure migration to work more flexibly
Expectations of IT to support low value products may create inefficiencies and redundancies
Poor communication could mean IT works on difficult to implement projects that are of little business value
Inadequate support for IT could mean their budget and resources are dedicated to fire-fighting and support when they could be a powerful force for innovation
How do you turn it all around and get IT working on the right problems?
Ditch the Master-Servant Business/IT Relationship
At the heart of many problems of IT waste is the expectation that IT is purely a supportive arm of the business that exists to serve its whims. Changing this paradigm is the first step to cutting those escalating wasteful IT costs.
An IT Department and its CIO should be a key strategic business partner. Rather than simply receiving demands for equipment and managing users, IT should be engaged for its expertise in moving the business forward as a whole. It should be empowered to provide that support, but also to bring new ideas to the table and play an active role in establishing the business' direction.
Give IT more agency, and you'll find that it's able to do a lot of that cost-cutting itself by better understanding where the business is going.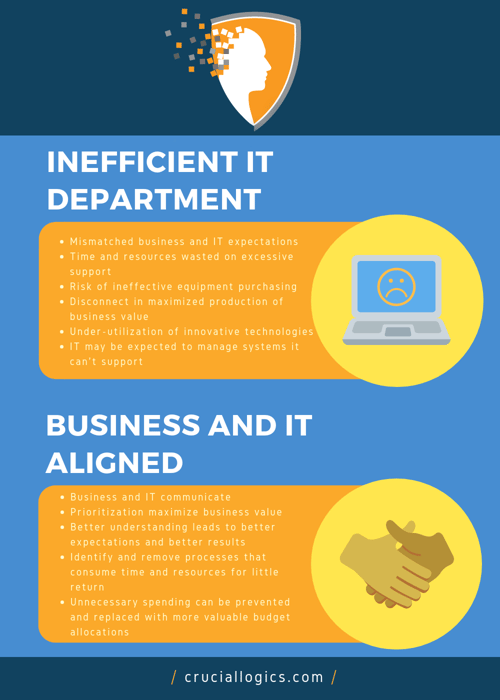 Realign IT's Priorities Based on Business Value
With business leaders and IT leaders talking, do an audit of your current and planned IT projects. What actually is critical to the business' future, and what's more of a "nice to have" kind of thing? At the same time, what's the easy stuff? Get that low-hanging valuable, easy fruit picked sooner to have a more immediate reduction in waste.
Look at your IT strategy. Do you have one? Can you clearly map items from your IT strategy to how it directly supports the overall business strategy? Are there points that don't link up? Cut them.
Then audit your current technologies. The urge many businesses have to buy in massive bulk can lead to overspending. Involve IT in these decisions — and if you are still purchasing massive amounts of infrastructure, it may be time to think about Infrastructure-as-a-Service.
Finally, look at everything else IT does. With a reworked IT strategy in hand, what processes that still happen are now clearly unnecessary? What work that they do produces little business value compared to other work that they could be doing?
Help is Available!
The ways in which an IT Department may be working inefficiently are myriad. Sorting through it can be a big challenge, marred with its own pitfalls.
We recommend getting a hand. At CrucialLogics, we marry canny business sense with a deep understanding of the role of IT departments to produce success for our clients. And as Microsoft Gold Partners, we're well-positioned to design and deploy an enormous number of modern IT solutions at the same time.
If you're looking to get your IT Department and your business working effectively toward the same goals, you may want to check out this page, just for the financial pros and CFOs! Or, check out our page on Business and IT alignment for a special offer.