Data leakages can happen unintentionally, or they can be caused by malicious actions by people within your organization or from the outside. Regardless of how they happen, they happen often. In fact, during the 1st quarter of 2022, every half-second an internet user experienced a data leak. You need to take precautionary measures to protect your organization's data and to prevent bad actors from attacking your enterprise.
In our recent on-demand webinar, Cloudy with a Chance of Data Leakage, experts Amol Joshi and Desirae Huot from CrucialLogics teamed up with Packetlabs' ethical hacker Richard Rogerson to talk about threats to your data and the effects a leak would have on your organization. You can read more about this in our first blog of this series, here. They also discussed the various steps you must take to safeguard your digital information and prevent hackers from getting access to your enterprise, which we cover below.
The 4 Stages of the Data Protection Lifecycle
Your data is vulnerable from the moment it is created and throughout its lifespan, so it is important to take the following steps in the data protection lifecycle:
Know Your Data: Understand your information landscape and identify important data across your hybrid environment.
Protect Your Data: Apply flexible protection protocols to your data, including encryption, access restrictions, and visual markings based on your data classifications.
Prevent Data Loss: Detect risky behavior and prevent accidental oversharing of sensitive information, like sending credit card numbers over a Teams chat.
Govern Your Data: Automatically retain, delete, and store data and records in a compliant manner. Don't hoard your data indefinitely.
Protect Your Data by Controlling Access
In addition to controlling where and how your data is being stored, you also need to know who has access to it and what policies are in place to protect it. Some important best practices to follow include:
Use permissions in Teams, SharePoint, and OneDrive to provide or restrict user access to the site and its contents.
Disable external sharing and anonymous links when not necessary and restrict sharing to specified domains.
Set up conditional access policies to enforce Multi-Factor Authentication (MFA) and web-only access for guests, and disable their ability to download, print, or sync files to their devices.
Automatically sign out users who have idle browser sessions.
Automate periodic access reviews to ensure users do not retain access to your organization's sensitive information for longer than is necessary.
Create Power Platform environments to manage access and apply Data Loss Prevention (DLP) policies to control which types of connectors can be used, in order to prevent users from exposing data outside of your organization.
Ensure Your Data Loss Prevention Policies are Secure
DLP policies help prevent unintentional or accidental sharing of sensitive information as it travels through your network. They can help you identify, monitor, and automatically protect sensitive content across several services, but they are also prime targets for bad actors, so it is critical to ensure your DLP policies are secure.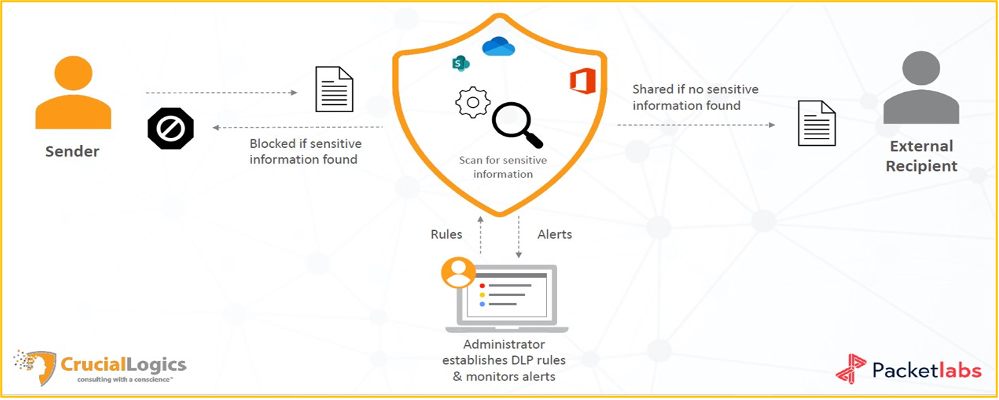 Establish Data Retention Protocols
Data protection laws worldwide, such as GDPR, SOX, and HIPAA, state clear rules for consumer rights for their information to be erased. Data retention policies help you set up protocols for storing and destroying information to comply with regulatory requirements.
Effective data retention protocols will ensure information is only retained when it is in use, and only for as long as necessary, before it is safely disposed of and no longer vulnerable.
Govern Your Data with Auto Labeling
Auto labeling helps when you are working with a large number of documents and want to manage them at scale. Sensitivity labels and retention labels can be automatically applied based on sensitive information that is detected in the content of the document or based on how the content has been classified.
Benefits of auto labeling content include:
There is no need to train your users when to use each of your classifications.
There is no need to rely on users to classify all content correctly.
Users no longer need to know about your governance policies.
Manage your data compliance at scale, using these tools:
Trainable Classifiers use machine learning to identify the type of content in a document and automatically apply sensitivity and retention labels.
SharePoint Syntex is an add-on that uses advanced AI and machine learning to automate content processing. It can be used to identify the type of content, extract metadata from within the content, and automatically apply sensitivity and retention labels.
Verify that Your Data is Protected
After you have implemented all of these data protection protocols and controls, verify that your enterprise and data are indeed secure. The risks of implementing data controls without testing include giving you a false sense of security if assumptions are not validated and potentially exposing sensitive information in less-secure environments. You should consider using the services of a professional IT security team or run an objective-based Pentest to validate whether or not your controls are effective.
CrucialLogics is a Microsoft Gold Partner
CrucialLogics can help you implement data protection protocols and ensure that the controls put in place are effective. We will continuously monitor your IT and data security systems and improve on them based on attacker techniques.
Helping technology and business leaders make better IT decisions, we are advisors first. We review your enterprise vision, identify technology gaps, and develop an IT or business transformation strategy with key decision points translated into business outcomes.
Take advantage of our expertise and book an assessment at no cost to you. Reach out to our team today.