CIOs are strapped for time and resources amid the constant technological change in business paradigms

Falling behind is a real concern thanks to the difficulty managing huge IT deployments and understanding when a new technology is relevant and crucial enough to implement

A CIO and their IT department work most effectively when augmented with dedicated expert help
This part's news to nobody: technology's a complicated beast these days.
Any medium or large organization is going to find itself saddled with years or decades of technology decisions that result in a complicated IT infrastructure attempting to support enormous amounts of work.
It doesn't stop there. You're also dealing with the inevitable forward march of technology and the reality that if you don't keep up, your competition will pull ahead. Static security gets weaker over time as more and more exploits are discovered. Productivity slips below the capabilities of other companies, and slowly but surely, you're less and less able to support the business's needs.
Other departments complain that their IT isn't doing what they want it to, and other business leaders start asking questions.
It comes down to this: it's just too much for any one person to not only understand the breadth of their existing technology and their technological needs, but the growing gap between them. How do you tame this beast? CIO advisory.
Get CIO Advisory to Augment Your Technological Leadership
Whether you're a CIO struggling to keep abreast of how to implement technology in your company yourself, or you're another business leader looking to give your IT a boost, CIO advisory is a helpful way of getting an outside perspective from IT professionals who may be specialized experts in the areas you may not have the internal resources to fully cover.
Strategic budgeting and IT investment planning
Aligning technology with business needs
Efficient business process alignment
Risk management and continuity planning
Leveraging the cloud and comprehensive technology planning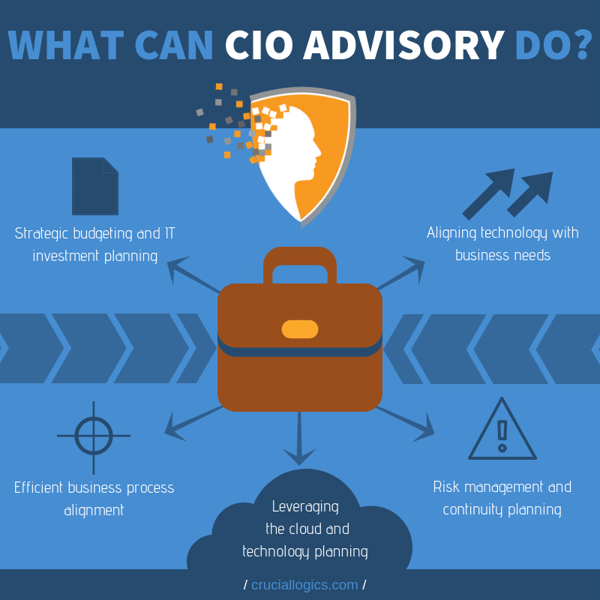 There's no better way to know you've got all your IT bases covered. It's also a vital tool when it comes to one important but sometimes neglected IT task.
CIO Advisory's Role in Business Satisfaction
What it comes down to is delivering business satisfaction with the IT department. Knowing what the business needs, implementing what the business needs, and demonstrating the business value is ultimately what the business's various departments want to see.
How'd you like to get in on the single most effective tool to help drive business satisfaction?
And that's what you can use CIO advisory to help deliver. Your external partner will help breakdown what kind of support the business needs, what your opportunities for impressing it with innovation are, and what your priorities ought to be. What this means is establishing a business-IT alignment.
CIO Advisory in Project Management and IT Deployments
When you suspect your system needs an overhaul, CIO advisory can help win assurance that you're adopting the best solution.
Rather than have to wade through reams of information about the diverse set of options available, possibly having to parse through areas outside your own expertise, your CIO advisory team is available to assess your systems and provide that solution based on their real-world experience of having done it all before.
You're the expert on your company's needs. They're keeping up with the advance of technology. Working together, you produce the plan and execute the implementation. Whether that's establishing an appropriate disaster recovery infrastructure and process or figuring out where to cut IT waste, CIO advisory is the single most effective way of keeping in line with industry best practices and avoiding costly mistakes.
Make a Case for Better IT Backed with Experience You Can Trust
For mature businesses — or for any business where nimble, modern IT is a core factor in revenue growth — IT should be a key business partner within the company.
When you know that more powerful IT — as opposed to merely supportive IT — can have a real effect on your ability to drive revenue, understanding how to optimally leverage it becomes crucial. Every day that you don't, you're leaving money on the table.
How does a business and IT alignment save you money?
CIO Advisory brings this question to the forefront and helps you find the answer that allows you to most effectively align the IT department with the business. This means closer relationships which facilitate better, more relevant IT project implementation and less time wasted on things that don't provide ROI.
If you're having trouble getting the resources your IT department really needs, getting an outside perspective is your chance to help build a business case to obtain them. You'll gain access to not only knowledge from an assessment of your own situation, but by comparing yourself to other companies in similar situations.
Are you ready to get started? Take a look at our CIO advisory service page for a breakdown of what this service means. Or, you may want to explore more of the challenges CIOs face — and how to overcome them.