The cloud's only getting stronger — and a cloud-first approach is a smart way to leverage that potential. But is the cloud-first approach actually right for your company? That does depend on a few important factors.
Let's start with what the idea even is. Being a cloud-first business means that when discussing an IT change, you evaluate cloud service options before you engage with any alternatives.
This means you're forcing the consideration of new technologies rather than sticking with what you know — putting the potential benefits of the cloud front-and-centre. You're only dealing with on-premises deployments as you really need them.
What Cloud-First is Good For
If you're a forward-thinking organization, you're already all over the cloud. Or, at least, the idea of the cloud. Almost all companies use at least a few cloud services by now — but you might have some considerable investment in legacy technology. There might be a few influential business or IT leaders resistant to change, always jumping at the chance to steer away from a new approach.
When you're looking to augment your IT, the existence of your current assets colours how you look at a cloud-versus-on-premises solution. You may be tempted to stay on-premises just because you can, or just because you have more in-house expertise there. Similarly, you might be tempted to purchase new equipment because that's what you know.
This thinking could see you miss out on considerable overall cost savings — not to mention the opportunity to work more productively and dynamically.
A cloud-first philosophy gets you thinking independently of your current situation. It's less about what you are, and more about where you want to be. You can evaluate the cloud service based on its inherent value which can help you forge a long term, cloud-heavy path — piece by piece.
The Hazards of a Cloud-First Approach
The cloud-first approach is, of course, biased toward the cloud. Depending on your existing infrastructure and your long-term plans and budgets, you may find yourself anchored with expensive equipment already purchased. In terms of cost, perhaps it really does make sense to pass on, or at least ease into, some cloud service. There are situations where running something in-house, perhaps as a private or hybrid cloud model, does make sense.
If you only consider that possibility after the cloud doesn't work for some other reason, you may find out that you're paying a cloud subscription service while also paying for the overhead costs of other equipment you already had but aren't using efficiently.
Then there's the compliance and security question. When you're dealing with sensitive data, there are certainly circumstances where you'd be better off at least dealing with some aspects of your business in-house.
A cloud-first approach that doesn't account for this could, at worst, see you jump the gun, migrate to an insecure service, experience a data breach, and lose the trust of your customers on top of the upfront costs of the damage and potential regulatory fines.
That doesn't mean a cloud-first approach has to be hasty and dangerous, but it should be a tempering force.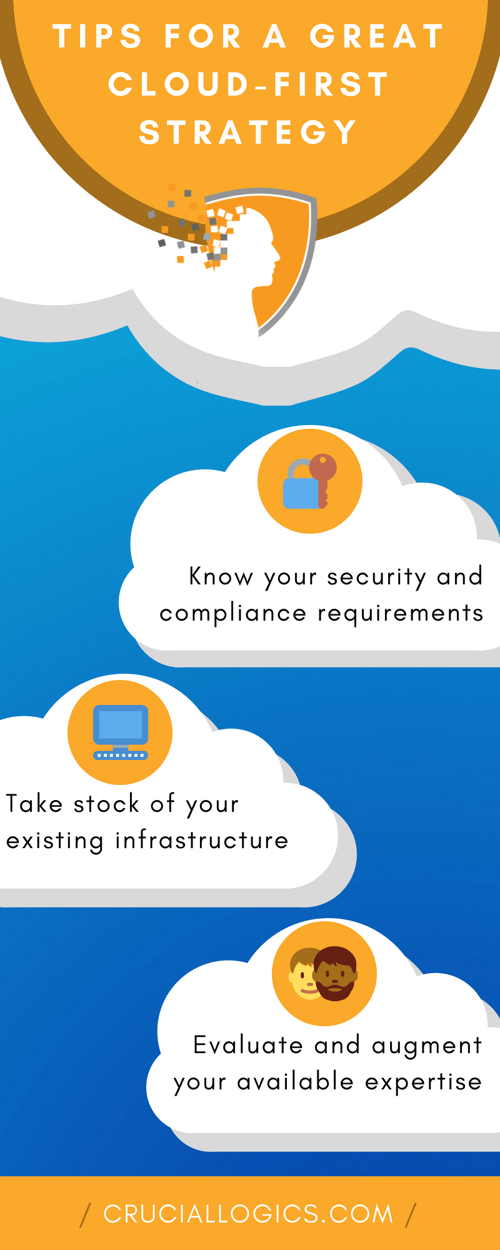 Important Things to Keep in Mind for a Cloud-First Infrastructure Approach
We've touched on it already, but your existing infrastructure is of obvious interest. A mature company decades into its journey with physical datacentres and storerooms full of IT equipment faces a much different question than a startup consisting of four guys, four smartphones, and a laptop. Understand your existing requirements and limitations — including security and compliance — in order to evaluate your approach to cloud computing.
Then you have to consider your available expertise. If you don't have cloud experts in-house, you'll need to find a reliable partner organization to help you through your cloud transitions.
If you find yourself in that situation, you'll be interested in our Enterprise Solutions services. At CrucialLogics, we're cloud computing experts — Microsoft Gold Partners in fact — and we're always happy to lend a hand to companies looking to grow on the cloud.