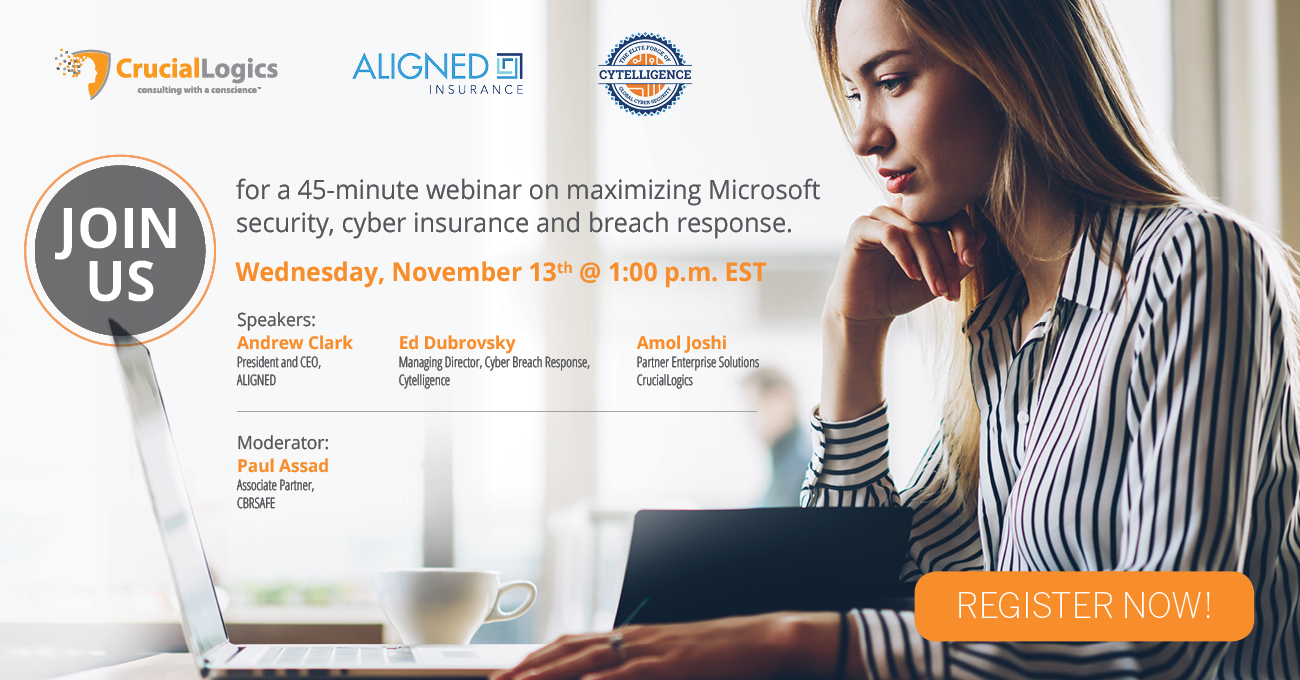 Join us for a webinar moderated by Paul Assaad, who has over 25 years of security experience, and learn from industry experts how to maximize your Microsoft security investment, understand your insurance coverage and what to do in the event of a cyber-attack or privacy breach.
CrucialLogics, ALIGNED and Cytelligence are partnering to demystify the standardization, simplicity, savings and security that comes from deploying your Microsoft cloud with all native tools.
In our 45-minute session you will learn:
If you are you leveraging your Microsoft investment
How to ensure you are prepared for a cyber-attack or privacy breach
Stats from the battle ground and why the right incident response expertise lowers risk of liabilities
How to choose the best cyber insurance for your organization
Speakers:

Amol Joshi, Partner Enterprise Solutions, CrucialLogics: Amol is a seasoned executive with a track record of managing high risk and strategic security projects. He preaches the practical side of security through standardization and process vs. heavy investments in various solutions.

Andrew Clark, President and CEO, ALIGNED: Andrew is widely recognized as one of the most knowledgeable insurance professionals in the industry, and he uses his expertise to protect the cash flow, profitability and balance sheets of his clients from unforeseeable losses.

Ed Dubrovsky, Managing Director, Cyber Breach Response, Cytelligence: Cyber security expert Ed Dubrovsky brings more than 24 years of experience to Cytelligence and its clients, specializing in the information security and technology fields.
Moderator:

Paul Assad, Associate Partner, CBRSAFE : Paul is an IT Security leader with extensive experience in various industries and has implemented security strategies for multiple clients and businesses. He has sat on the board of directors of the Canadian Cyber Threat Exchange (CCTX) for many years, bringing security capabilities to small and large Canadian businesses in all sectors.