Windows 7 extended support ends in less than two years (January 14, 2020). Given that an upgrade will take some time, and too many businesses will wait until the last minute, that makes this year the perfect time to get the upgrade done.
With several years of deployments under their belts by now, you'll be hitting a sweet spot of in the Microsoft marketplace, with partners now having solid experience in the Windows 10 upgrade process while avoiding the inevitable late 2019 rush that'll leave you with fewer, more expensive options the longer you wait.
Security Pressures of Leaving Windows 7
When extended service for Windows 7 ends, that means Microsoft will no longer be supporting the operating system. If you continue to use it after that, you're on your own with regards to security. You'll be at greater risk of cyberattack as criminals discover exploits that will not be corrected and will likely slip further from compliance requirements as time goes on.
There's no getting around it. Individual consumers might be content to keep a Windows 7 machine around for casual home use, but businesses can't afford to take the risk.
Windows as a Service Explained
Windows 10 represents a new approach from Microsoft with regard to updates. Described as "the last version of Windows" the idea is to get away from major costly and inconvenient upgrades every few years — like Vista to 7 to 8 — and instead roll out significant updates to Windows 10 around twice yearly to all users.
This new approach is Microsoft's Windows as a Service. Users of Android and iPhone will be used to receiving ongoing OS updates without the bumps of big new versions of the OS, and that's the idea here. Windows 10 will be around for a long time, and the aim is that the Windows ecosystem as a whole sees an increase in quality and stability, as Microsoft and third-party developers can be reasonably confident of the state of their clients' OS situations.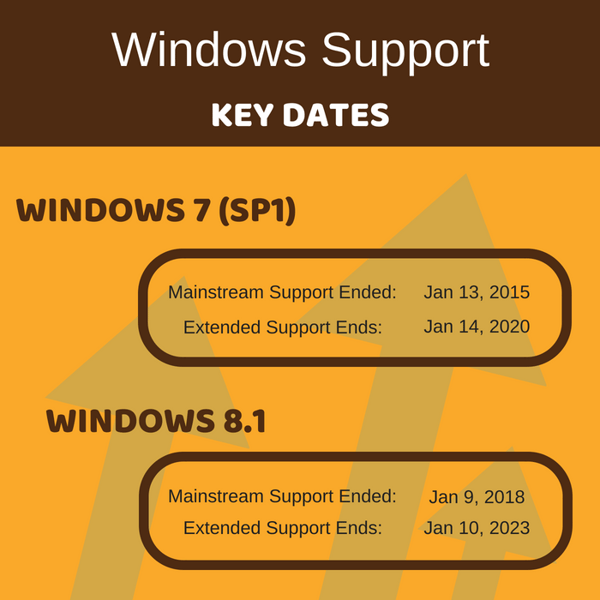 You Can be Confident a Windows 10 Upgrade is a Step Forward
Windows 8 wasn't well received, still accounting for far fewer active installations than both Windows 7 and Windows 10. Microsoft's responded to this by abandoning some unpopular Windows 8 features such as the touch-centric interface in favour of a returned and revamped Start menu.
So, if you were hesitant about leaving Windows 7 because Windows 8 sounded like a misstep, you'll be happy to know Windows 10 has corrected course. It's a step forward in all the best ways.
But Do Make Sure You're Compatible
Besides nominal hardware requirements, you do have to worry about software compatibility. If you're running some mission-critical software that isn't compatible with a Windows 10 upgrade, that is going to be a problem.
However, it's not an excuse to sit back and do nothing. If you're not sure when, or even if this software will be compatible with Windows 10, the security concerns of not upgrading will catch up with you eventually, and at most you're delaying an issue that does need to be resolved.
Work with a Microsoft Partner to Ensure Great Results
A Windows 10 upgrade is fast becoming a necessity, but it can be a complicated affair to execute the switchover — especially if you've got a ton of devices to service. So don't do it alone. Work with us, and we'll make sure your business gets the right solution, a safe and secure implementation, and support once it's all done. Explore our Enterprise Solutions here.
Need to know more about the latest Microsoft products? Check out our look at Microsoft Office 365 and how it empowers business here.
Looking to implement a digital transformation in your business? CIOs should start here.